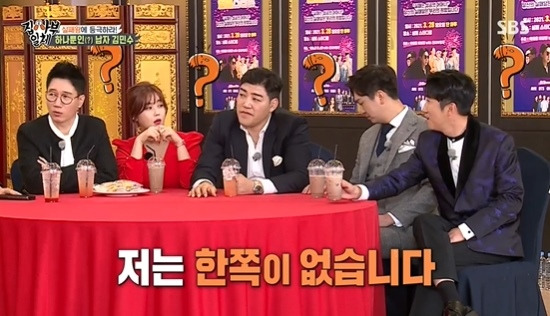 On the 28th SBS 'All The Butlers', a Failure Festival was started to select FailureKing.
Kim Min-soo said, "I do not have one side" about Failure. Failure Festival participants who did not know Kim Min-soo's story asked, "What is there?" Kim Min-soo surprised the participants by saying, "There is no testicle one side."
It was an accident that occurred while Kim Min-soo was playing against Murad Bowsidi; Kim Min-soo said: "I was hit by a player, and the plastic foul cup, a player's reserve, was broken. I was protecting a male emergency. But I did not know. "Ji Suk-jin urged me to talk quickly, saying," Do you know what? How did you get hit? " Kim Min-soo said: "I was hit very strongly in the fourth round, and then I was so sick, and I got a fever coming up, and the doctor checked and said it was okay, and I played again three minutes later."
"K-1 games are played three times a day, and they are also famous for overworking their bodies. Such games start with bruises even if they go to the quarterfinals. It is great that we fought, and people themselves are different. "
Kim Min-soo finished the game even in that situation and even won. Kim Min-soo said, "I went to the ambulance and I got a lot of low kicks, so I had blood surgery because my blood was full." Lee Seung-gi said, "It is great to win in that situation." Shin Sung-rok said, "It is more great that you have overcome it and become a father of two children." Ji Suk-jin, who heard this, congratulated him, saying, "I am fine, but I am one.
The butlers and Failurestars began to compete, with balloons all over their bodies and walking on the thornfield. When Cha Eun-woo appeared with a balloon, Solbi laughed, saying, "It's like a fashion show." Next, Kim Min-soo of the Failure Star team scrambled and won over Cha Eun-woo.
Round two was a frog in the well. This time it was a victory for the butlers. Ji Suk-jin encouraged Failure stars, saying, "Do we lose once or twice?" "I feel sober because I admit Failure, I feel sober," said Ji Suk-jin, who was voted FailureKing.
/ Photo = SBS broadcast screen
Copyright c (xportsnews. com)
Post: K-Star-Holic