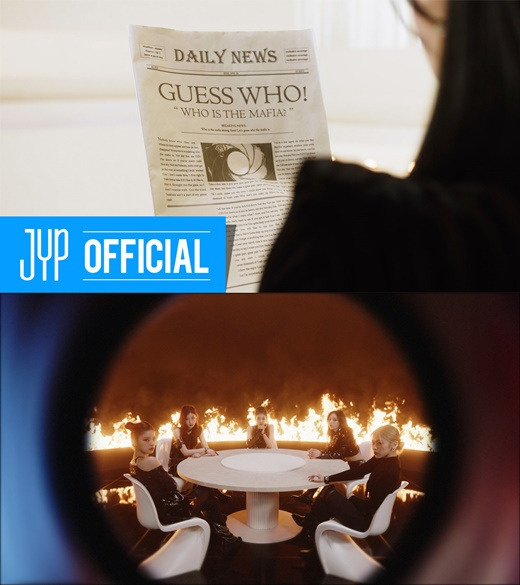 Fi. Ah. In the Morning' (Mafia in the Morning) released a music video called Teaser.
The title song of the new mini album "GUESS WHO (Ges Who)" released on the official SNS channel at 0:00 on the 27th is getting a hot response.
This video has a special atmosphere with a screen composition focused on ITZY, a five-color charismatic eye, and a tense sound. The members sitting around the roundtable in front of the burning flame stimulated the curiosity of the viewers.
From Ryujin between the show window mannequins, "GUESS WHO! WHO IS THE MAFIA? ", A smile at the newspaper, a premonition that seems to wait for a questionable person, a dress in a colorful pattern, and a strange expression toward the camera, each of them showed off their intense characters and amplified their curiosity about the main movie.
The title song 'Ma. Fi. Oh. In the Morning' was inspired by the setting in the Mafia game, where someone is inevitably destined when morning comes, adding fun elements. ITZY sings a confident message that goes to the veil and takes away the heart of the loved one.
A group of famous artists from home and abroad, including Earattack, who worked with leading K-pop artists such as Twice and Stray Kids, joined forces with JYP Entertainment's representative producer Park Jin-young to complete another global masterpiece.
ITZY will release its new mini album 'GUESS WHO' at 1 pm on the 30th. An hour earlier, at 12 pm, an online fan showcase will be held on the official YouTube channel and the performance of the new song 'Ma. Fi. Ah. In the Morning' will be released for the first time.
copyright holder c
Post: K-Star-Holic