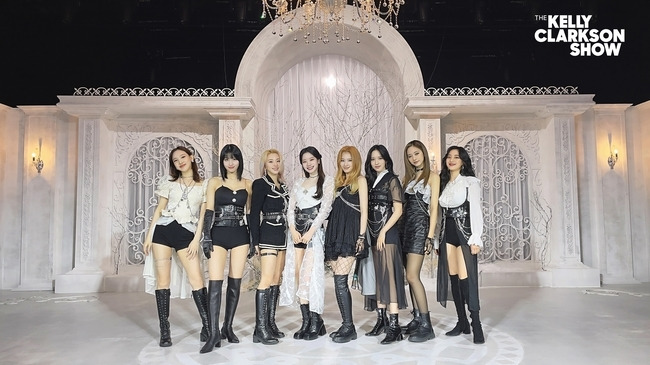 Group TWICE made its first appearance on the US famous TV program 'Kelly Clarkson Show'.
TWICE hosted "CRY FOR ME" (Cry for Me) Performance on NBC's "The Kelly Clarkson Show" on April 27 at 2 p.m. (as of Western time in the United States), capturing worldwide viewers.
'Kelly Clarkson Show' is a popular talk show hosted by world-renowned singer-songwriter and actor Kelly Clarkson, and has featured a large number of famous foreign artists such as Nick Jonas, Dua Lipa and John Legend. On the day of the show, Kelly Clarkson said, "TWICE has been a hit since its debut in 2015, and people around the world are enthusiastic about their choreography. I am looking forward to new music to be released this summer. "
TWICE has solidified its status as 'K Pop representative girl group' by showing off its perfect dance line as well as fascinating beauty through 'CRY FOR ME' performance. The fans who saw this showed satisfaction with the heated reaction such as "I am glad that there is one more stage of 'CRY FOR ME'", "the visuals of the members as well as styling are even better" and "I really look forward to the comeback".
The song "CRY FOR ME" aired on "The Kelly Clarkson Show" was first released at the "2020 Mnet Asian Music Awards" on December 6 last year, and it was officially released on the 18th of the same month, drawing a hot response. Park Jin-young, head of JYP Entertainment, and popular singer-songwriter Hayes took on the lyrics and wrote the moment when the emotions of the two poles coexisted. Forbes said, "TWICE, which has won many top prizes, is a song that coincides with world-renowned writers such as legendary producer Park Jin-young and famous rock band Principal Public member Ryan Tedder. TWICE has expanded its musical spectrum and has gained a strong global influence."
Meanwhile, TWICE will release a new Japanese single, "Kura Kura" (Kura Kura) on May 12; in June, it is preparing to release a new album in Korea
Post: K-Star-Holic