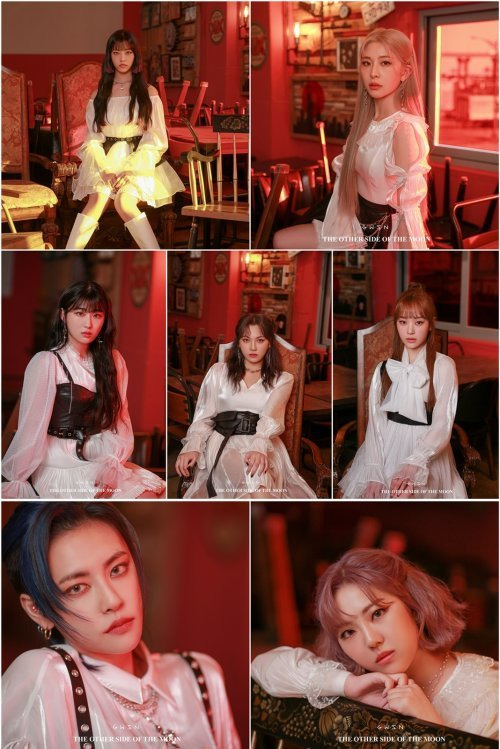 GWSN (Seoryeong, Seogyeong, Miya, Lena, Ann, Minju, Soso) uploaded the fifth Mini album 'THE OTHER SIDE OF THE MOON (Di Arthur Side of the Moon)' individual and group Night version concept photo sequentially through the official SNS account for three days from the 21st to the 23rd.
GWSN, which showed the multi-charm of innocence and girl crush in the previously released Day version concept photo, caught the attention of viewers by radiating a more dreamy atmosphere through the Night version.
GWSN, dressed in a neat white color costume in the photo, showed off its charm and visuals through the Night version of individual cuts and group cuts. The elegant and innocent appearance of the members combined with a dreamy mood, amplifying the curiosity about the new album concept.
After two different versions of Day and Night concept photo release, GWSN is paying more attention to what stage and music will be shown through the fifth Mini album 'THE OTHER SIDE OF THE MOON'.
THE OTHER SIDE OF THE MOON is a new news release released by GWSN in about a year and a month after the EP album The Keys (The Kids), released in April last year, and it contains an upgraded music and original world view.
This album includes the title song 'Like It Hot', which was written and arranged by Ryan Jeon, a hit song maker who worked on IU 'Celebrity', Omai Girl 'Dolfin' and SHINee 'Don't Call Me', as well as 'Burn', 'I Can't Breathe (I Can't Breathe), 'e i i o (I i i i o A total of six tracks were recorded, including Ii Io, Starry Night, and I Sing (lalala) (I Singh).
GWSN's fifth mini album THE OTHER SIDE OF THE MOON will be released on various online music sites at 6 pm on the 26th.
Copyright person (c).
Post: K-Star-Holic