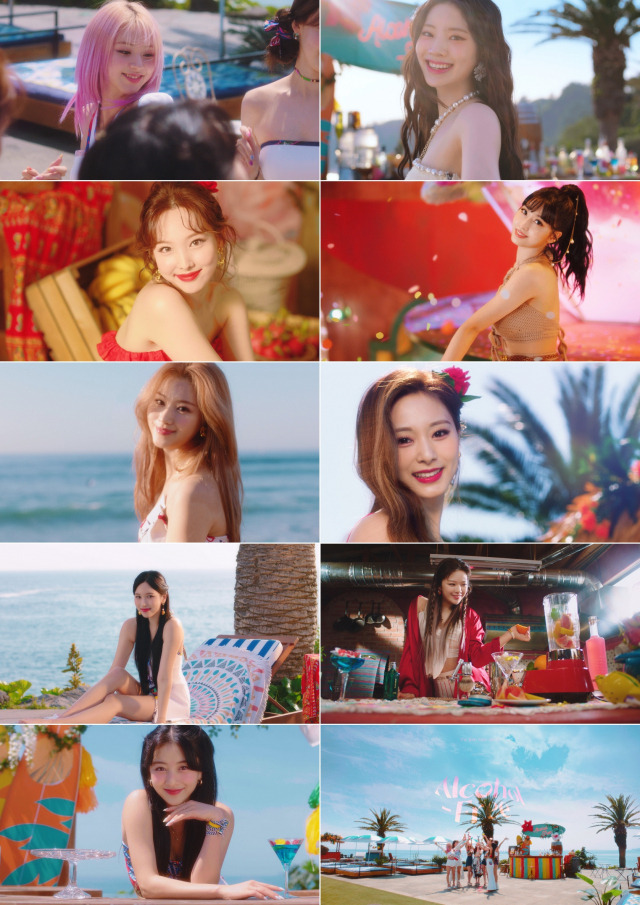 Group TWICE has released a refreshing charm with its new song 'Alcohol - Free' Music Video.
JYP Entertainment, a subsidiary company, first released the Music Video Teaser video of TWICE's title song 'Alcohol - Free' on the official SNS channel on the 7th.
In this teaser video, TWICE showed a powerful charm that could not help but fall in love with a smile that was released with a watery visual. The choreography, which is performed side by side in line with the rhythmic melody, reminded me of the modifier "Pretty Girl next to a pretty child", and doubled the pleasure of reminding me of a brilliant summer festival with transparent sea, warm sunshine and green palm trees. In addition to the Teaser image, a colorful cocktail appeared as an object in the movie Teaser image, amplifying the curiosity about the new song 'Alcohol - Free'.
TWICE's new album, "Taste of Love," which will be officially released at 1 p.m. (Eastern U.S. time 0 p.m.) on the 11th, recently exceeded 500,000 pre-order volumes. It is the third achievement after the mini 9th album 'MORE & MORE' and the regular 2nd album 'Eyes wide open', and TWICE succeeded in becoming a half-millione seller for the third consecutive time.
'Alcohol - Free' was written, composed and arranged by JYP Entertainment representative producer Park Jin-young, and composer Lee Hae-sol participated in the arrangement. A Summer Dance song that expresses a magical moment of falling in love, it connects the hit lineage of "Dance The Night Away" in July 2018 and "TWICE Table Summer Song" proved by "More and More" in June 2020.
From their debut song "OOH - AHH" to their previous work "I Can't Stop Me" to "I CAN'T STOP ME," all of their activity songs have been put on the list of billion views, and those who set the record of "14 consecutive 100 million views" gather expectations that they will continue their consecutive hit march with a new title song movie that melts 9-color refreshing charm.
TWICE has prepared a colorful comeback plan for domestic and foreign fans. At 12 p.m. on the 9th, the comeback Premiere Live 'Weed TWICE: Tasting the Taste of Love' (With TWICE: Tasting the Taste of Love) will be held. The comeback live will be broadcast live on six platforms, including YouTube, Facebook, V-live, Twitter, TickTalk and Instagram. On the same day (local time), he appeared on NBC's flagship show, "The Ellen DeGeneres Show", and will present his title song "Alcohol-Free" to viewers around the world for the first time.
Post: K-Star-Holic